What is the Hall of Fame?
The Australian Car Wash Association introduced the Australian Car Wash Hall of Fame Awards in 2018 . It is the industry and Association's highest honour.
The award recognises those car wash professionals, operators, and suppliers who have made a lasting impact on the professional car wash industry. Selection is based on candidate attributes in the areas of Leadership, Collaboration, Industry Support, Longevity and Innovation.
Members of the Australian Car Wash Hall of Fame embody greatness in the Australian car wash industry.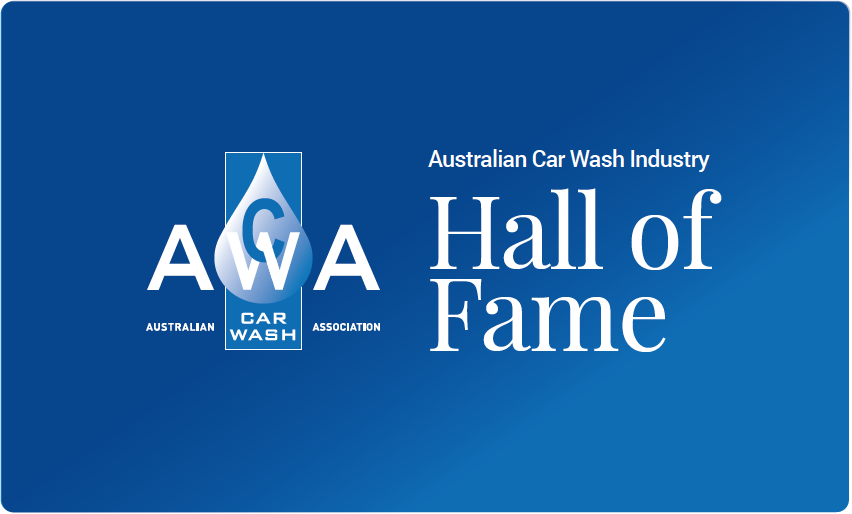 Invitation to Nominate
From time to time, the ACWA President will invite ACWA members to nominate inductees to the Australian Car Wash Hall of Fame.
Only ACWA Members can nominate someone for induction into the Hall of Fame.
Note; Members may not nominate themselves.
Submissions
Members must submit the nomination form and supporting information on-line by the due date.
Submissions should be made in dot-point format, addressing the Hall of Fame Selection Criteria.
Number of Inductions
There is currently a maximum of three Hall of Fame inductees admitted to the Hall of Fame in any induction period.
Selection Process
ACWA Directors select inductees to the Hall of Fame. All information provided to Directors is strictly confidential. Inductions will be at the sole discretion of the ACWA Board, and no correspondence will be entered into.
Presentation of Hall of Fame Awards
Successful nominees will be announced at Car Wash Show Australia or at a time set by the Board.
Australian Car Wash Industry Hall of Fame Nomination Criteria
Leadership
The candidate should be widely recognized as a successful leader in their market or field or have successfully led their organization to a leadership position.
Collaboration
The candidate should have demonstrated a willingness to help others be successful in the car wash business.
Industry Support
The candidate should have served on car wash association boards or committees or supported industry programs.
Longevity
The candidate should have established a "full career" in the car wash business.
Innovation
The candidate should have brought new thinking, ideas or products/processes to the car wash business.
Nominations for the Australian Car Wash Industry Hall of Fame will open soon