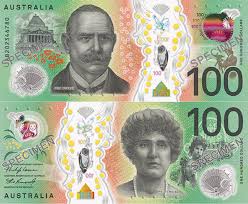 The Reserve Bank yesterday revealed the design of the new $100 banknote, which is the final denomination to be redesigned as part of the Next Generation Banknote Program. The banknote will be released into circulation in the second half of 2020.
As with the existing banknote, the new $100 features Sir John Monash and Dame Nellie Melba.
The Reserve Bank has advised that it is continuing to work with banknote equipment manufacturers and retailers to help them prepare banknote accepting and dispensing machines to handle the new $100 banknote.
Existing $100 banknotes remain legal tender and can continue to be used.
Full details of the design and security features on the new $100 banknote, and other denominations, are available on the Bank's website at banknotes.rba.gov.au.