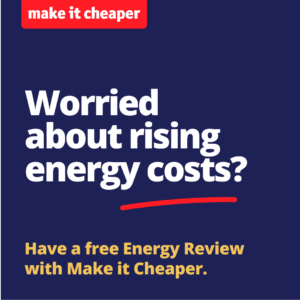 ACWA Members,
With small business electricity prices set to skyrocket, there has never been a better time to introduce members to ACWA Supplier Member, Make it Cheaper.
They are energy experts and ideally positioned to help you get the best possible price in a rising energy market.
In the first three months of the year, wholesale energy prices saw a year-on-year increase of 141%, and they look like they are continuing to rise.
These increases are set to flow through to retail prices across small business and residential customers from July 1st.
Indeed, ABC News has reported that Small Business Electricity prices will rise by 18.3%, and the Australian Financial Review said we could expect a double-digit increase in our power bills.
So now is the time to take action to make sure you are getting the best power deal.
In the coming weeks, you will receive a rate change notification from your current retailer detailing your new (increased) pricing and how this will affect your energy contract.
This is where MiC can assist!  Click Here 
At absolutely no cost or obligation to you, MiC will undertake a completely free comparison and tell you whether they can find your business savings or whether it is best to stay put with your current retailer.
Now is the time to take action.  Let MiC ensure you are not paying any more than you need to in the current volatile market!