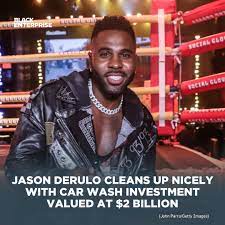 Jason Derulo is more than his music! The new Judge on the popular Ch 7 show in Australia, The Voice, is having great success with his car wash sites.
In fact,  he is hoping to step out of the spotlight thanks to the lucrative investment.
The singer recently appeared on the YouTube show Forbes Talks, where he discussed his rise to fame in the music industry and on TikTok.  Watch the whole clip or fast forward to the 4:32 minute mark as he talks about his success in the not-so-popular car wash lane with a company called Rocket Carwash.
"Rocket Carwash is basically changing the way that people get their cars washed," Derulo said. "So it's an amazing facility, you know? You go in, and you pay a membership, and you can get your car washed at any time."
Rocket currently has locations in Nebraska, Iowa, Pennsylvania, Texas, Utah, and California.