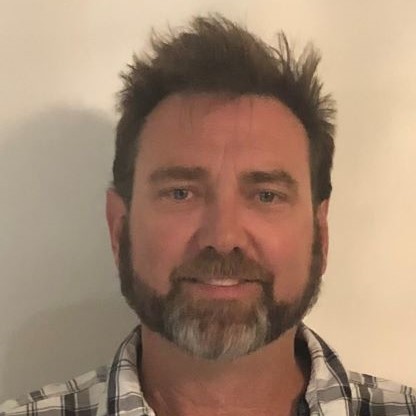 Continuing with our Meet the ACWA Board series, and introducing our second South Australian and inaugural Northern Territory Director, David Rose.
I am a country boy from Western Australia, born in 1972, so have just raised the bat for a half-century.  I went to boarding school as my parents owned and managed businesses in remote WA, including stations, caravan parks and motels. I completed year 12 and gained employment with WAGR (Railways) as a trainee driver.  Once qualified, I moved to Kalgoorlie and then Pt Headland driving ore trains for BHP.  From there, I became a work supervisor at Ranger Uranium mine Rio Tinto and then got back into the railways driving East West for SCT, based out of Adelaide.  I also briefly worked at Cockatoo Island as a machine operator, dozers, excavators, graders, haul packs etc.
During this time, I was married, had two children, Brooke and Demi and divorced.  I met Chris (my current wife) in 2011, and we were married in 2012, and I gained two stepdaughters, Ashlee and Sophie.  In late 2015 we purchased our first car wash at Sheidow Park, as this had been a longstanding aspiration of mine.  It was intended to be a one-horse gig, giving us security and preparing for retirement from the railways. In 2017 however,  we were approached by developers and built a truck and car wash at Old Noarlunga.  During construction at Old Noarlunga, an opportunity to purchase a car wash at Mt Barker came up, which we took.  We completely gutted and revamped the Mt Barker site transforming it from 1 automatic and 3 self-serve bays to a 2 automatic and 4 self-serve bay site.  Last year we purchased our first land/buildings and business car wash in Darwin, and at the end of 2022 acquired Aldinga Beach Car Wash.  We have been innovative owners and were one of the first sites in SA to introduce CT400 and the first site to use the Coinless Mobile App.
In 2018 I stopped working as a train driver and became full-time manager for the car wash sites.  I am keen to become a part of the ACWA committee to support newcomers to the industry, as I believe it is a great opportunity for the 'Mum and Dads' to be involved in a successful business.  I have built new car washes, updated old car washes, and purchased existing successful car washes and have a good understanding of what to look out for and the pitfalls that come with expansion, investment, size and capacity, as well as the legalities around partnerships and leasing.  I am looking forward to offering my no-nonsense approach to business and life and supporting the ACWA and its members in any way I can.