Introducing our newest ACWA Director Daniel Haynes, Waves Carwash Cafe, ACT.  Daniel came onto the Board at the Annual General Meeting held in Sydney at the recent Car Wash Show Australia 2022.
Daniel Haynes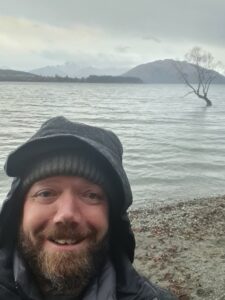 I was born in Canberra and moved away when I was young.  Throughout my youth I had the opportunity to live across the east coast of Australia, from Port Douglas to Bondi Beach. Eventually settling in Coffs Harbour to attend high school, and this is where most of my family still lives and the place I call "Home".
I left school in year 10 and tried my hand at different jobs, including –  banana peeler, longline fisherman, landscaper, sandwich artist, concreter, door to door salesman and super yacht cleaner.  In 2007 I completed an Assistant in Nursing course and worked in Aged Care for 12 months, before being offered a construction job in Canberra that I could not refuse.
In 2009 I applied for an "Assistant Manager" position in the local newspaper.  I was contacted by the Area Manager who asked me to meet him at Waves Carwash, Braddon.  I remember telling my girlfriend "There is no way I am working at a Carwash!", however after a bit of googling, I realised that this carwash was a little different to what I had imagined.  I went in, nailed the interview, and was offered the job.  Within 6 months I was the Site Manager of the Waves Carwash, Gungahlin store.
I loved the diversity this job gave me;  it was nothing like I had done before.  Daily I was doing Customer Service, Team Management, Financials, Ordering, Maintenance, Marketing, Sales, Training, and a whole bunch more.
It wasn't until I attended the 2011 ACWA Show on the Gold Coast, that I decided I could actually make a career in the industry.
Then Robert Sacco, owner of the Waves Carwash Group, took me to the ICA Show in Las Vegas…and it blew my mind!  Cementing me to the industry.
From 2015 onwards things just got better for me. I became the Operations Manager of Waves Carwash.  I helped design and build the New Waves Carwash sites at Gungahlin and Phillip.  In 2018 I started working with Robert and his team at DIA to build and create "Pulse", the advanced carwash management and POS system for the Carwash industry.  In 2019 I was the first Australian to win the "Emerging Leadership Scholarship" in Nashville.  In 2020 I became the General Manager of the Waves Carwash Group (now five car wash sites).
Waves Carwash and the industry had changed my life! It has seen me travel across Europe, to the US, Canada, China, as well as Australia and New Zealand. It has grown me personally and professionally beyond my imagination.
I now am looking at what I can do to help the industry grow people like myself.  My colleagues, Igor Makhonin and Robert Sacco, are also launching "Carwashing Down Under" this year to help provide information, ideas and advice to the Australian and New Zealand car wash market.
I am really excited to join the ACWA Board at the ACT Director and have the opportunity to help improve the industry.